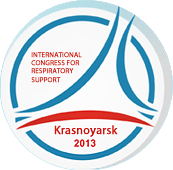 IV INTERNATIONAL CONGRESS
FOR RESPIRATORY SUPPORT
14–17 September 2013 | Russia, Krasnoyarsk
Casual Dinner in the foothills of the Sayan mountains




Phone number:

(495) 726-51-35




Bus departure from the hotel "Oktyabrskaya" and "Krasnoyarsk" will be at 17:00. Closing time — 00:00.

The exact information on departures will be advised later.

On September 15 Organizing Commitee welcomes guests to a Casual Dinner in the foothills of the Sayan mountains at a cozy restaurant located outside the city in the heart of the vast Siberian taiga. A peaceful atmosphere of the restaurant, a plentiful menu of European cuisine, as well as intercourse with the leading experts, invited speakers and Guests of Honor of the Congress with no doubt will leave an unforgettable impression and provide you with the opportunity to consolidate partnerships and discuss prospects of the project.

Dinner at the "Chalet" will be preceded by a guided tour to the foothills of the Sayan Mountains. There are amazing places a few kilometers far from the south-western outskirts of the city of Krasnoyarsk — The National Nature Reserve "Stolby" and fun park "Beaver Log". They are located on the right bank of the Yenisei River, in north-western spurs of the Eastern Sayan Mountains. There are steep cliffs surrounded by taiga. Many of them rise above the ground up to a hundred meters. For many years, rains and winds, frost and sun carved bizarre shapes from natural stone. People began to call them: "Ded", "Bolshoy Berkut", "Lyviny vorota", "Grif", "Perya" and so on. The rocks are so bizarre and various that you will remember forever and easily recognize any of them on postcards and photographs.

Attention!
We recommend you comfortable shoes and suitable clothes. Dress-code: sportswear.
ORGANIZERS

Krasnoyarsk State Medical University
named after
Professor V.F. Voyno-Yasenetsky
Krasnoyask Region
Public Health Ministry
Russian Federation
of Anesthesiologists
and Reanimatologists
Supported by

The Congress
is accredited by EACCME
Partners and sponsors
Sponsors
Partners
ICRS 2017 Technical secretariat
Official services agent
International Agency
of Congress Management «MAKO»


+7 (495) 134-25-65

info@congress-kr.ru