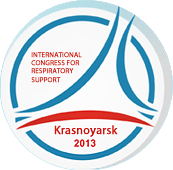 IV INTERNATIONAL CONGRESS
FOR RESPIRATORY SUPPORT
14–17 September 2013 | Russia, Krasnoyarsk
In September 2013, in the frames of IV International Congress on respiratory support will be held a Plenum Federation anesthetists and intensive care specialists.
The Agenda of the Plenum of the Federation
of Anaesthesiologists and Reanimatologists of Russia (FAR)
September 15, 2013
10:00-13:00
The Meeting of the FAR administrative board (closed)
September 15, 2013
14:00-17:00
FAR meeting agenda
1
V.M. Mizikov a year after the congress (20 min)
2
A.P. Kolesnichenko Welcome-speech of the International Congress for the respiratory support. (10 min)
3
I.V. Zabolotskikh The Vienna and Helsinki Declaration: the status of the problem. (20 min)
4
A. Bayaliyeva The XIV Kazan congress information from the local Organization Committee. The Presentation of Kazan. (10 min)
5
A.I. Gritsan The Anesthetic and resuscitation service in the Krasnoyarsk region. (15 min)
6
Speeches of the FAR administrative board members on topical issues (by appointment) (30-40 min)
7
K.M. Lebedinskiy The solution project. (10 min)
Discussion and decision-making.
ORGANIZERS

Krasnoyarsk State Medical University
named after
Professor V.F. Voyno-Yasenetsky
Krasnoyask Region
Public Health Ministry
Russian Federation
of Anesthesiologists
and Reanimatologists
Supported by

The Congress
is accredited by EACCME
Partners and sponsors
Sponsors
Partners
ICRS 2017 Technical secretariat
Official services agent
International Agency
of Congress Management «MAKO»


+7 (495) 134-25-65

info@congress-kr.ru