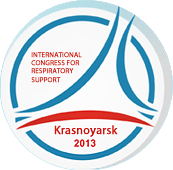 IV INTERNATIONAL CONGRESS
FOR RESPIRATORY SUPPORT
14–17 September 2013 | Russia, Krasnoyarsk
Dear Coleagues!
We invite you to take a part in the educational course in the anesthesiology «Teachers training» that will be held at September 2013 during the IV INTERNATIONAL CONGRESS FOR RESPIRATORY SUPPORT (September
14-17,
2013 in Krasnoyarsk).
Objectives:
The Course is meant for raising the level of teaching skill in the anesthesiology and resuscitation science and will be supported by the World Federation of Societies of Anaesthesiologists (WFSA), the European Society of Anaesthesiology (ESA), the Federation of anestesiologist-resuscitation specialists (FAR) Russia.
The course includes practical suggestions for effective teaching, creation of quality presentations and analyses of clinical cases interesting for anestesiologist-resuscitation specialists.
Venue:
Krasnoyarsk, Russia
Date:
September
14-17,
2013
Invitation requirements:
Anaesthesiological and resuscitation education
participation in the educational process (teachers, medical practitioners involved in the teaching process, medical residents from graduate courses)
Responsibility for the implementation of the obtained information in educational programs.
availability of a laptop/notebook computer during the course
skills in Power Point or other software for presentations
preferably participation of young professionals (under 40 years).
Lecturers:
The lecturers will be presented soon.
Program questions:
basic teacher skills
planning and preparation of teaching
how to make teaching interactive
how to make the presentation interesting
The number of the course participants is limited — 20 people.
The application deadline is April 1, 2013. E-mail for applications:
ttt@far.org.ru
The application must include the Curriculum vitae. Please specify in the CV full name, age, place of work, position, teaching and working experiences, e-mail, mobile number, purpose and expected result of the course participation.
Chairman of the Organizing Committee of the course of education in anesthesia «Teachers training» E.P. Makarenko
Chairman of the Scientific Committee of the IV International Congress on respiratory support, Professor A.I .Gritsan
Member of the Committee on Education WFSA, Professor M. Kirov.
The course participants are provided by participant's pack.
ORGANIZERS

Krasnoyarsk State Medical University
named after
Professor V.F. Voyno-Yasenetsky
Krasnoyask Region
Public Health Ministry
Russian Federation
of Anesthesiologists
and Reanimatologists
Supported by

The Congress
is accredited by EACCME
Partners and sponsors
Sponsors
Partners
ICRS 2017 Technical secretariat
Official services agent
International Agency
of Congress Management «MAKO»


+7 (495) 134-25-65

info@congress-kr.ru