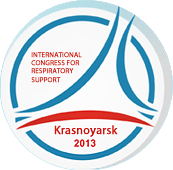 IV INTERNATIONAL CONGRESS
FOR RESPIRATORY SUPPORT
14–17 September 2013 | Russia, Krasnoyarsk
Online abstract submission will be opened on
November 26, 2012
.
All accepted abstracts will be presented at the Congress as posters (in electronic and printed forms).
The admission of proposals on Program lectures is already opened. Please send your suggestions
to the following e-mail:
icrs2013@onlinereg.ru
.
The deadline for abstracts submission is July 31, 2013.
General requirements
The abstract's title must contain not more than 200 symbols, including the gaps.
The reporting author should make sure that all of his or her co-authors know the content of the abstract submitted, before the actual submission.
Only the abstracts of registered participants will be included in the Congress program and the book of abstracts.
The authors must state preferable form of presentation — oral or poster, but the coordinator has the deciding vote.
Text requirements
Language: English
Paper size: A4 ; fields: 2 cm on bottom and top side, 2 cm on left side, 1,5 cm on right side
Font: Times New Roman, 12 pt; line spacing: single; no extra spacing between paragraphs
Text size:

no more than 500 words

. Abstracts that exceed this limit will be declined.
Abstract size: no more than 2 page of standard A4 format including tables and illustrations, if any.
Text of an abstract should be submitted in Microsoft Word (Office 97, 2000, XP, 2003 versions) or RTF format.
Attention:
While sending an abstract,
do not include
abstract title, authors' names etc. in the text file. Such information should be put separately, into respective fields on the page of abstract submission in Online Registration System.
ORGANIZERS

Krasnoyarsk State Medical University
named after
Professor V.F. Voyno-Yasenetsky
Krasnoyask Region
Public Health Ministry
Russian Federation
of Anesthesiologists
and Reanimatologists
Supported by

The Congress
is accredited by EACCME
Partners and sponsors
Sponsors
Partners
ICRS 2017 Technical secretariat
Official services agent
International Agency
of Congress Management «MAKO»


+7 (495) 134-25-65

info@congress-kr.ru