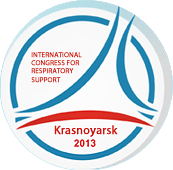 IV INTERNATIONAL CONGRESS
FOR RESPIRATORY SUPPORT
14–17 September 2013 | Russia, Krasnoyarsk
General information
If you wish to make a payment for regsitartion fee or any other services you have booked with our Online registration system, you can do it via your personal page's Payment section.
Methods of payment
Agreement of payment


If during the registration process the credit card payment was chosen the Agreement of Payment form for printing out will be created automatically. Please fill it in, sign it and send it to us via e-mail or by fax (+7 495 726 51 35).

Opon receiving your Agreement of Payment form our financial department will charge the appointed amount from the provided credit card account and will send you the confirmation.



Bank transfer payment


If you choose payment by bank transfer, the invoice for the total amount of the chosen services will be created automatically. Please print it out and provide the payment to the indicated bank account.

In order to confirm your payment we would kindly ask you to send the copy of your bank transfer order.



Credit card payment


The credit card payment is made with the AssistTM — secure credit card Internet payment system. AssistTM e-payment system uses SSL-connection, making your purchase safe on-line. If you choose the Internet payment option simply follow the instructions provided after being redirected.

Only VISA and EuroCard/MasterCard are accepted for the Internet payment!
Important notes
We regret, but we do not accept AMEX, private and company checks or Euro cheques.
Admission to the Congress and participant's bag are only granted if the payment of registration fee has been received by the organizers.
Participants, who made payments after the registration system is closed, should bring a copy of their payment receipt with them to the Congress registration desk.
Payments for all services can be done separately if needed. Just tick the services you would like to pay and the system will generate the sum automatically.
Money refund to the card holder is carried out according to the credit card payment system terms and conditions. In this case all banking fees are to be paid by the card holder. For more information please contact Monomax Congresses and Incentives LLC manager.
All the refunds are processed after the Congress with a minus of bank charges and overheads.
ORGANIZERS

Krasnoyarsk State Medical University
named after
Professor V.F. Voyno-Yasenetsky
Krasnoyask Region
Public Health Ministry
Russian Federation
of Anesthesiologists
and Reanimatologists
Supported by

The Congress
is accredited by EACCME
Partners and sponsors
Sponsors
Partners
ICRS 2017 Technical secretariat
Official services agent
International Agency
of Congress Management «MAKO»


+7 (495) 134-25-65

info@congress-kr.ru