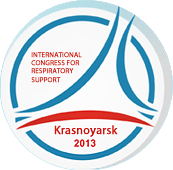 IV INTERNATIONAL CONGRESS
FOR RESPIRATORY SUPPORT
14–17 September 2013 | Russia, Krasnoyarsk
Gala Dinner



Cost of participation:

2300

RUR

(58€ | 77$)




Dress code::

Resort Evening




Bus departure from the hotel "Octyabrskaya" and "Krasnoyarsk" — at 18:20. Gala Dinner begins at 19:00. After the event you will be provided with a back transfer to the hotel.

The organizing committee invites members of the IVth International Congress on Respiratory Support to spend a pleasant evening with friends and colleagues. A rich evening program "Krasnoyarsk greets guests" will allow you to explore the culture and traditions and feel the hospitality of Siberia. Evening program contains the performance of folk groups, folk crafts market, pleasant music and dancing. Besides, the organizers have prepared a lot of pleasant surprises for you. During the evening you will have an opportunity to finish business, consolidate friendly relations and discuss the prospects of incoming meetings at the Congress of FAR (Kazan, 2014) and the Vth Congress of respiratory support (Krasnoyarsk, 2017).