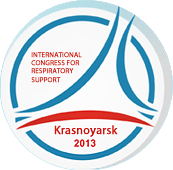 IV INTERNATIONAL CONGRESS
FOR RESPIRATORY SUPPORT
14–17 September 2013 | Russia, Krasnoyarsk
If your abstract has been chosen for the poster session then you are ought to prepare your poster according to the requirements below.
The Technical secretariat will supply you with a poster board and scotch. Posters should be displayed on the boards using scotch that will be available at the Poster Presentation Desk. No other adhesive method is permitted on the boards.
Recommended size poster: format A0, vertical, width 90cm x height 120cm
Poster Number: A5 size (Provided by the Technical secretariat).
Presenters are responsible for setting up and removing your own poster.
Poster should be readable by viewers one meter away.

The poster title, author(s)' name(s) and affiliation(s) should appear at the top. The message should be clear and understandable. Contents should be in the order of abstract introduction, purpose, methods, results and conclusion.
ORGANIZERS

Krasnoyarsk State Medical University
named after
Professor V.F. Voyno-Yasenetsky
Krasnoyask Region
Public Health Ministry
Russian Federation
of Anesthesiologists
and Reanimatologists
Supported by

The Congress
is accredited by EACCME
Partners and sponsors
Sponsors
Partners
ICRS 2017 Technical secretariat
Official services agent
International Agency
of Congress Management «MAKO»


+7 (495) 134-25-65

info@congress-kr.ru